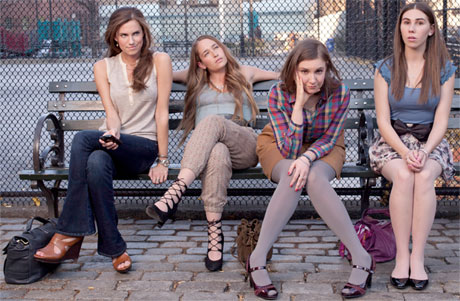 I am in love with Lena Dunham.
I am prone to developing girl crushes on particularly amazing women, but none have stole my heart quite like the fabulous Lena Dunham. This writer, director and actor has a talent so large, that it's baffling how she can be so amazing at so many things. But she is, and she gets our generation of women like nobody else. Mainly because she is one of us.
For years I've failed to relate to any of the women I see in films and TV. Yeah I always loved Sex and the City and have quoted Carrie Bradshaw for years, but these women were rich and affluent and had no problems pulling - not to mention they were in their thirties.
But with Girls, it has a realism unlike anything else I've seen. It doesn't strive for the happy ending or the fantasy - it deals with young women trying to find their way in the world. At this time in my life, it's describing me perfectly.
The thing about Lena is that she's not afraid to give herself fully to her work. She's so honest and relatable, that every week of watching her show I just want to shout 'THAT'S ME!'. I relate to Girls and Lena's film Tiny Furniture like nothing else I've watched.
As Hannah Horvath in Girls, Lena embodies things that I see in myself but would rather not admit. She's slightly narcissistic, she throws herself into relationships with toxic boys, panics if things get too serious, argues her point to the end and she's a writer.
Her group of friends, Marnie, Jessa and Shoshanna are just as perfectly written. Marnie is beautiful but uptight, Jessa is fabulous, witty and unpredictable and Shoshanna is sweet and clueless. All these women are relatable and have made Girls a perfect depiction of our generation.
I am addicted to this show, series one was fabulous and series two has just started back on Sky Atlantic. I beg you all to watch it, Lena is an awe inspiring talent, and watching her work makes me feel like I'm not entirely alone.